MINATOシティハーフマラソン2021は開催中止となりました。
Minato City Half Marathon 2021 is cancelled due to COVID-19.
Event Information
Name
MINATO City Half Marathon 2021
Date
Tuesday (Public Holiday), 23rd November 2021. * Rain or shine
Organizers
Minato City Marathon Secretariat, Tokyo Athletics Association
Managing Organization
Minato Ward Athletics Association
Supporting Organization
Sports Nippon Newspapers
Event Collaborators
Dai-honzan Zojoji, Tokyo Tower, Tokyo Prince Hotel, Shibatoshogu
Competition Rules
The event will be conducted in accordance with the 2021 JAAF rules and regulations and the Event Regulations.
Start Venue
The vicinity of Minato City Shiba Park
Finish Venue
Half Marathon

Tokyo Tower

Fun Run

Tokyo Metropolitan Shiba Park (north side of Minato City Library)
Course
The half marathon is planned to start near Minato City Shiba Park, pass through major roads such as Hibiya-dori, National Route 15 (Daiichi-Keihin), Sakurada-dori and Sotobori-dori, and finish at Tokyo Tower.
The fun run is planned to start near Minato City Shiba Park, pass north along Hibiya-dori, turn left at the Minato City Shiba Koen 3-chome intersection, and finish inside the Tokyo Metropolitan Shiba Park (on the north side of Minato City Library).
This is a JAAF certified course.
The course may change in the future.
Checkpoints and Water Supply stations
Checkpoints

Five checkpoints along the course are planned.

Water supply stations

A total of Eight water supply stations are planned, Two before the start and Six along the course.
Race category, maximum number of participants, participation qualification, participation fee etc.
Half marathon (JAAF certified (pending) course)
Divisions

JAAF registered athletes

General Division

under 30
30-39
40-49
50-59
60-69
70+

Max. no. of participants

3,000 runners

【General: 2,800,Disabled registration: 100,Charity registration: 100】

Start method

Runners are assigned to 4 corrals and start at different times (wave start).

Time limit

2 hours 30 minutes after the start of the last corral.

Start time
8:30 am
Participation fee
10,000 yen (Charity registration: 40,000 yen)
Qualification requirement

Persons who are 18 years or older and can finish within the time limit on the day of the event.
(Participation in wheelchairs is not allowed.)

Award presentation

JAAF registered Division

Men and Women: 1st-8th place (Gross time)

General Division

Men and Women: 1st-8th place (Gross time)
Men and Women by age division: 1st-8th place (Net time)

Gross time refers to the time from the starter's pistol until the runner crosses the finish line.
Net time refers to the time from when the runner crosses the starting line until the runner crosses the finish line.

Records

Runners who complete the race within the time limit can download an official a certificate containing split times for each 5km.

Participation prize

T-shirt
(Those who complete the race also receive a finisher's towel.)
Course detail (planned)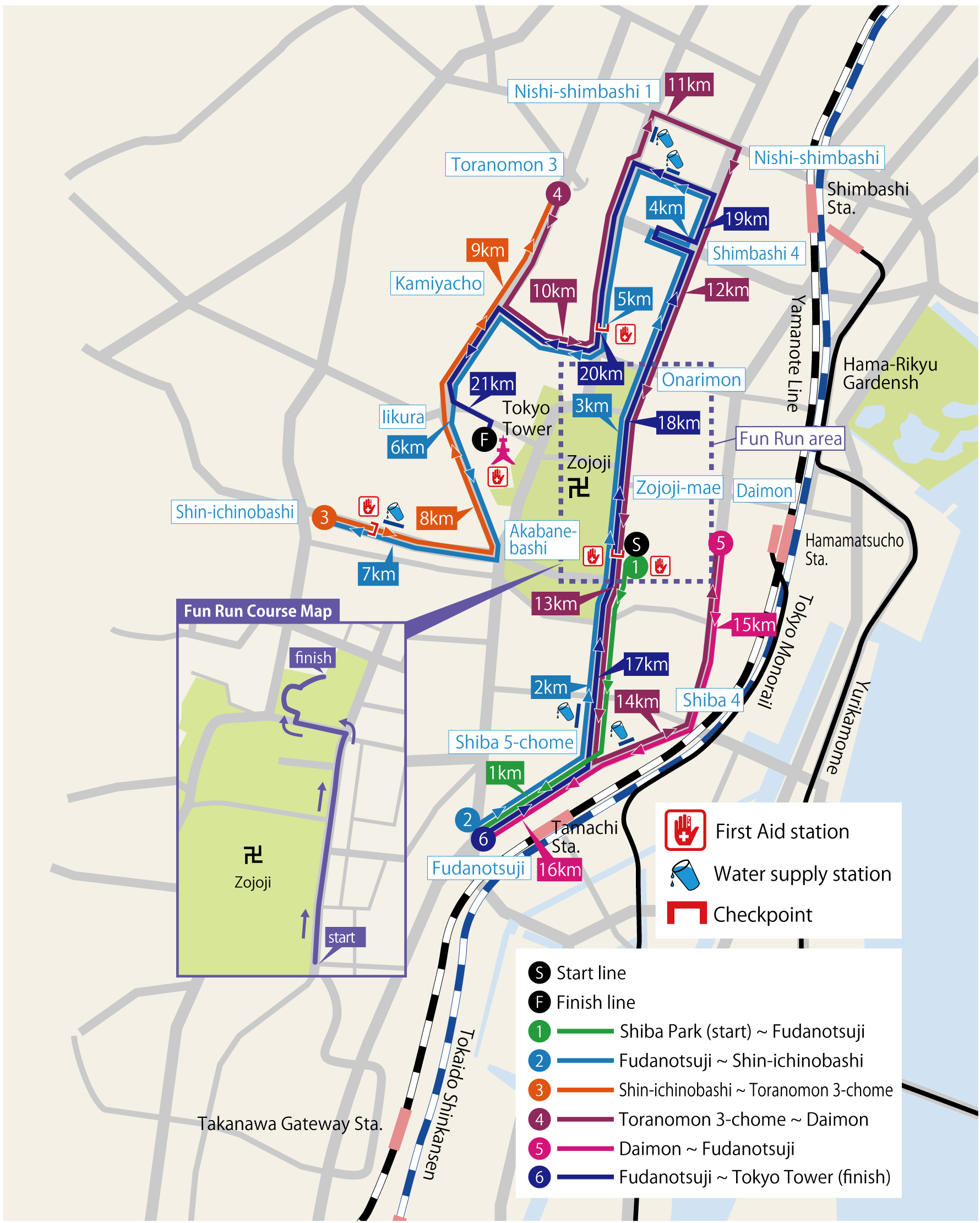 Elevation Map (planned)

Access to areas around the Start
JR Line / Tokyo Monorail

10-minutes walk from Hamamatsucho Station North Exit

Toei Subway Mita Line

3-minutes walk from Onarimon Station Exit A1
3-minutes walk from Shibakoen Station Exit A4

Toei Subway Asakusa Line / Oedo Line

5-minutes walk from Daimon Station Exit A6

Toei Subway Oedo Line

7-minutes walk from Akabanebashi Station Akabanebashi Exit
There are no car or bicycle parking spaces for participants.
Delivery of Number Cards, etc.
Number cards and the chip for time measurement will be sent to participants in early November.
Number cards will not be issued or received at the event venue, so please arrive at the designated location by the designated time wearing the number cards. Details will be announced in the participation guide sent prior to the event.
Application Procedures
General entry
Internet (RUNNET) ONLY
Application Period: Monday, 5th July 2021, 9:00 am– Thursday, 15th July 2021, 5:00 pm
STEP1

Please access the website from PC or smartphone and apply according to the instructions on the event entry page.

STEP2

Lottery

STEP3

Tuesday, 3rd August 2021 – Lottery result announcement (by email and on the "RUNNET My Page")

STEP4

Select payment method on RUNNET My Page (credit card or convenience store payment) and make payment.

STEP5

Deadline for payment is Wednesday 18th August Participation is confirmed after payment is received.
Entry