Event Information
Name
MINATO City Half Marathon 2019
Date
December 1, 2019 (Sun.) * Rain or shine
Organizers
Minato City Marathon Secretariat, Tokyo Athletics Association, Minato Ward Athletics Association
Managing Organization
Minato Ward Athletics Association
Supporting Organization
Sports Nippon Newspapers
Competition Rules
The race will be conducted in accordance with the 2019 rules and regulations of the JAAF and of this competition.
Start Venue
The vicinity of Shiba-koen, Minato ward
Finish Venue
Half Marathon

Tokyo Tower
Course
The half marathon starts from around Minato City Shiba Park, passes through major streets such as Hibiya-dori, Sakurada-dori, Sotobori-dori, and Daiichi-keihin and finishes around Tokyo Tower.

This is a JAAF certified course.
The course may change in the future.
Checkpoints and Water Supply stations
Checkpoints (5 places in total)

4.30km – 09:15
11.05km – 10:00
14.20km – 10:22
17.40km – 10:43
20.00km – 11:04

The checkpoint times and places may change.

Water supply stations (7 stations in total)

Water supply stations are scheduled to be set up approximately 4.5km, 7.0km, 10.1km, 11.4km, 14.2km, 16.8km, 18.6km.
Race category, maximum number of participants, participation qualification, participation fee etc.
Half marathon (JAAF certified course) (21.0975 km)
Divisions

Atheletes registered with the JAAF

General runners

under 30
30s
40s
50s
60s
70 and over

Maximum number of participants

5,000 runners

【Advanced registration 2,400 runners,General registration 2,400 runners,Charity registration 100 runners】

Start method

Runners are assigned to four corrals and start at different times(wave start).

Time limit

2 hours 30 minutes from the start of last corral.

Start time
8:30 am
Participation fee
7,000 yen
Participating qualification

Persons who are 18 years of age or older who can finish within the time limit as of the race day.
Participation in wheelchairs is not allowed.

Award presentation

Atheletes registered with the JAAF

1st – 8th place for given to entrants. men and women by gross time.

General runners

1st – 8th place for both men and women by gross time.
1st – 8th place in each age group for both men and women by net time

Gross Time is the time between the sound of the starter's signal for your race and the time you cross the finish line.
Net Time is the time between the time you actually cross the start line and the time you cross the finish line.

Records

Runners who completed the race within the time limit can download the official certificate containing lap time records for every 5km.

Participation prize

T-shirt (Finisher is also presented with finisher towel)
Course detail (planned)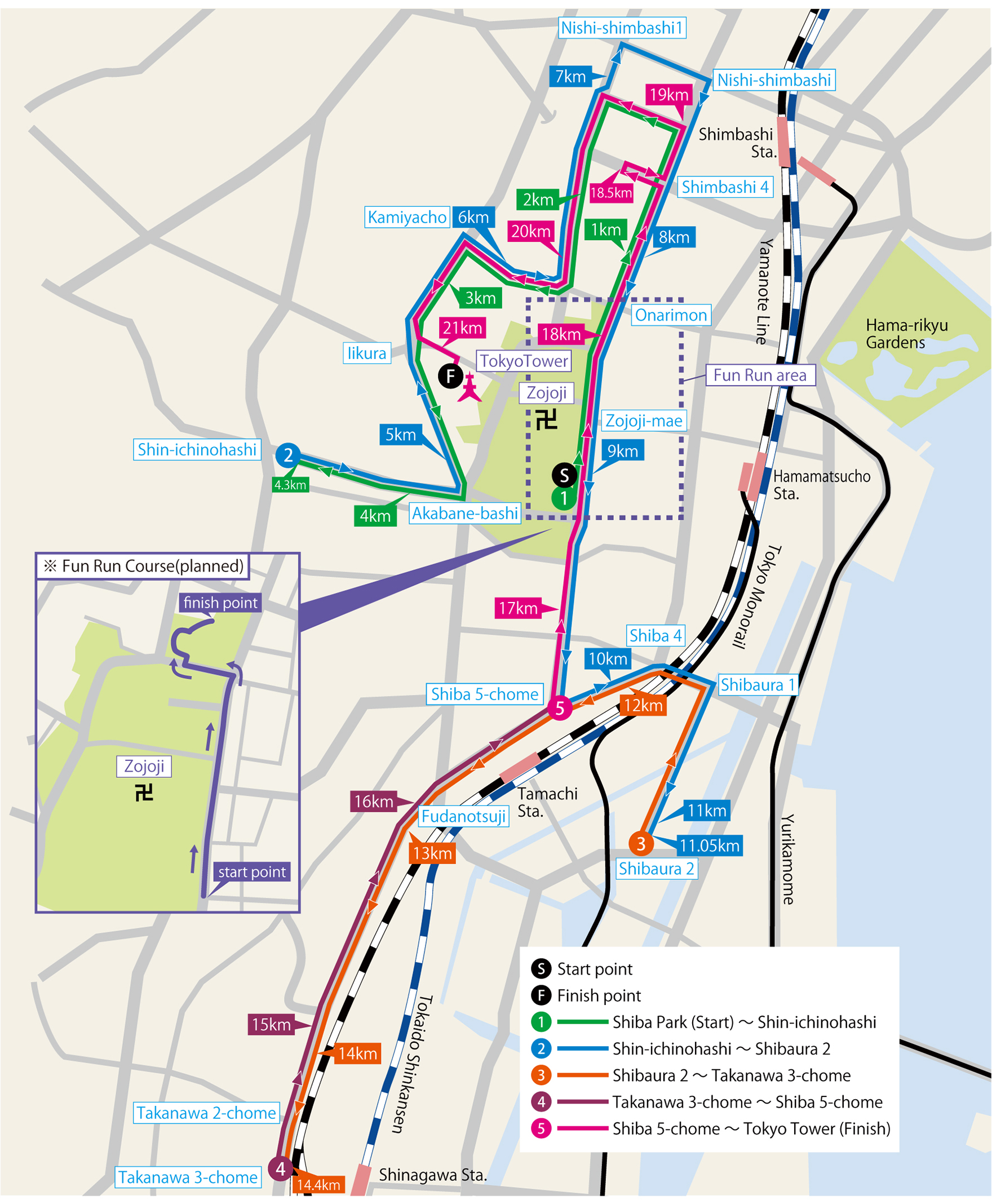 Elevation Map (planned)

Access to areas around the Start
*There is no parking lot or bicycle parking space for participants
・JR Line / Tokyo Monorail

10 minutes walk from Hamamatsucho Station

・Toei Subway Mita Line

3 minutes on foot from Onarimon Station or Shibakoen Station

・Toei Subway Asakusa Line / Oedo Line

5 minutes walk from Daimon Station

・Toei Subway Oedo Line

7 minutes walk from Akabane-bashi Station
How to deliver number cards, etc.
Reception on the day.
Application Procedures
General entry
Internet (RUNNET GLOBAL) ONLY
Application Period: 7/11 (Thu.) 9:00 am– 7/22 (Mon.) 5:00 pm
STEP1
Please access the website from PC or smartphone and apply according to the instructions on the event entry page.
* Those who are using RUNNET GLOBAL for the firsttime are required to register for membership of RUNNET GLOBAL before applying (free of charge).
STEP3
8/5 (Mon.) –
Lottery result announcement (mail delivery · RUNNET GLOBAL my page display)
STEP4
Pay the participation fee by the payment method selected on the entry page before the due date.
* Please note that reception will be invalid if payment can not be confirmed within the due date.
STEP5
Participation fee deposit deadline:8/18 (Sun)
Participation decision after payment confirmation
The registration winners who failed to confirm payment of the prescribed entry fee during the payment period is considered to have declined the application.
Duplicate entry will be dropped.
Entry